PERRO GRANDE
RECORD PRODUCER / TV & FILM COMPOSER / MIXING ENGINEER
"A producer is like a coach of a championship team. Talent produces star power but not necessarily a championship. With direction, encouragement and strategic execution a producer can push artists beyond boundaries they sought impossible: OD is that experience." ~ PG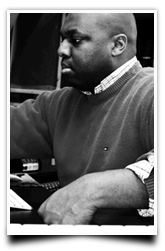 Music producer "Perro Grande" adopted his nickname in college. While studying in Cuba, his Bahamian student peers likened his personality to a "Perro Grande" or "Big Dog". Perro prefers to let his music and expertise speak for itself. His unique sound and work ethic is beginning to win the attention and respect of industry elite. Perro's style is designed through an anomalous way of vocal sampling and "melody telepathy" creating an unadulterated soul that is soothing and naturally pleasing to the ear. OD Music, co-founded by Perro and his business partner L. Davis, became an integral part of Winterfest, revered today by critics as one of the most successful hip-hop events that Ottawa has ever hosted. Following the event, Canadian Hip-Hop legend Moka Only was invited back to the OD studio resulting in an impromptu recording on one of Perro's beats. "It feels good. Real good," expresses multi Juno Award recipient Moka. "By the 5th track that was played, [Moka] had already fallen in love with my signature style," says Perro. In conclusion, the world will soon realize once they are exposed to the talents and sounds of this producer.

Traditionally, record producers sample short snippets of previous records. They use the original recording as the foundation of their idea. Perro, a multi-instrumentalist, chooses to hire and record session singers "freestyling" over his compositions. He then scours the recordings for matching melodies and frequencies, changing pitch and splicing words together. The result is an original sequence sometimes unrecognizable by the performer. The process has earned him the moniker "The new age Quincy," as legendary producer Quincy Jones used the same technique with musicians. "I feel the frequencies of different sounds which guides me," says Perro.

Perro's all-encompassing knowledge of music, voice, instrumentation and arrangement helps differentiate him from the field. He draws musical influence from producers and musicians like Stevie Wonder, Timbaland, Quincy Jones and Missy Elliott who inspire him with their uniqueness, musical talent and ability to convey emotion in their music. In a world where beat makers are proclaiming to be producers, this impresario dares to be a trailblazer. Rooted in vibroacoustics, also known as the "Beethoven Effect," he delivers a fresh new sonic palette for music lovers worldwide. Perro is a consummate professional with steadfast determination who wants to leave an indelible mark of his own on music.

KEEP UP WITH US
ODME IS IN THE AIR, TAKE A BREATH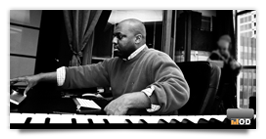 NEWSLETTER
STAY INFORMED